Prairie Island Nuclear Uprate – Out with a Whimper . . .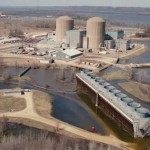 On November 7, 2012, after a long struggle where community members have challenged the safety and prudence of nuclear power expansion, the Minnesota Public Utilities Commission issued an Order to Show Cause why the "uprate" at the Prairie Island Nuclear Plant should not be rejected.
This Order explained that there were no parties who still believe that the uprate is in the public interest. The Prairie Island Nuclear Generating Plant (PINGP) Study Group, which I've represented for several year, and the Prairie Island Indian Community have maintained for several years, through a grueling certificate of need administrative trial as well as many post-hearing filings, that the uprate was a poor decision. Reasonably forecasted need couldn't justify the increase in power at the nuclear plant, increased heat and radiation posed health and safety issues and the costs of investment in aging nuclear facilities would come back to haunt ratepayers.
The tide on nuclear power extension and expansion began to turn with the Fukushima Daiichi incident, when federal nuclear regulators started taking a harder look at safety, resulting in a slower approval process. Reductions in natural gas prices and structural changes in demand as homes and business adopted efficiencies also began to impact economics.
In March, Xcel Energy first suggested that circumstances might have changed so that spending another $237 million on Prairie Island might not be such a good idea. The PINGP Study Group submitted comments opposing the uprate on economic grounds and also due to public health and safety risks, including:
Increased use of surface and groundwater by 10 percent.
Increase in liquid and radioactive waste by 10 percent.
Temperature increase of 10 percent.
Possible increase in reactor vessel embrittlement from neutron bombardment and higher operating temperatures.
Hotter spent fuel, with higher enrichment requiring more years in the spent fuel pool.
Increase in the level of radioactive liquid waste discharge from 626 Curies to 689 Curies.
Increasing waste heat discharged to the Mississippi River by as much as three degrees Fahrenheit at both ends of the discharge canal under certain conditions.
Increase of 10 percent in direct gamma radiation exposure to members of the public from spent fuel casks.
Incremental involuntary cancer risk to the public from spent fuel cask gamma radiation at a level (3.5 in 100,000) that exceeds the Minnesota Health Department level of concern for cancer (1 in 100,000).
Incremental increased lifetime cancer risk to plant personnel from spent fuel cask gamma radiation (9.8 in 100,000) nearly an order of magnitude higher than the Minnesota Health Department level of concern. (see PINGPStudyGroupCommentsOpposingUprate)
It became clear to many analysts, as we told the Star Tribune, that the economic benefit of the uprate was speculative, while the health and safety risks were real. Xcel Runs into Nuclear Economics _ StarTribune(Oct.14, 2012)
The Public Utilities Commission Order effectively asks parties to "speak now or forever hold your peace" about terminating the Prairie Island nuclear plant uprate. Let us hope for a resounding silence.
But Xcel may still have the last laugh. The Company just asked for a 10.7 percent rate hike. The number one reason for the rate hike — Xcel's need to keep its nuclear power plants operating. XcelAsksfor10PercentRateIncreaseStarTribune(Nov.2, 2012)