Still Fighting to Defend the Wild Rice Sulfate Standard
Minnesota's wild rice standard is, again, under attack at the Minnesota Legislature. Although the extensive scientific research done with public funds by University of Minnesota researchers confirmed the validity of the 10 milligrams per liter sulfate standard to protect wild rice, political pressure to change the standard has been unremitting.
Read here my Commentary piece in the Star Tribune: "The Earth is not flat, there is no tooth fairy and sulfate limits are required to protect natural stands of wild rice." Read Counterpoint_ The science is clear_ Protect our wild rice _ Star Tribune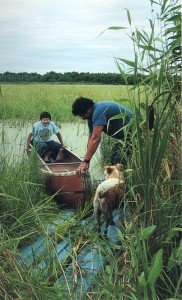 In addition to the fact that the existing standard is reasonable and protective of wild rice, the federal Clean Water Act precludes suspension of an existing and approved water quality standard. Read my testimony before the Minnesota House Environment Committee and the Senate Energy Environment Committee explaining why bills proposing to block application of the wild rice sulfate standard should be rejected.
Read Testimony in Minnesota House (February 2015) and
Read Testimony in Minnesota Senate (March 2015).