Results Achieved
Clients hire Just Change Law Offices to achieve real-world, tangible results. Paula Maccabee has represented and worked in partnership with clients to obtain outcomes that protect clients' interest, the public interest and the environment.
Opposing Sulfide Mining Pollution in Northern Minnesota: Representing non-profit group WaterLegacy in opposing open pit sulfide mining that would destroy thousands of acres of wetlands, increase mercury in fish and discharge acid mine drainage and toxic metals, violating water quality standards for thousands of years, if not forever. Provided Water Legacy's Comments on the PolyMet NorthMet open pit sulfide mine project (Analysis of PolyMet Mine Project) and publicized U.S. EPA's failing grade for the PolyMet Project environmental review (Commentary EPA Criticism of PolyMet Mine Project). Efforts also focus on requiring mining companies to comply with water quality standards. (See http://www.waterlegacy.org/).  As a result of advocacy and capacity-building, WaterLegacy has been ranked by national group Philanthropedia, as #1 Minnesota environmental start-up non-profit.Philanthropedia WaterLegacy Page
Protecting Organic Farms and Farmers: Represented organic soybean farmer to preserve crop support payments and resist county Farm Service Agency efforts to impose penalty for failure to spray organic crop with pesticide. Represented organic vegetable farmer to obtain compensation in overspraying case.
Supporting Community Wind: Represented community-based wind developer to bring Xcel Energy to the table to negotiate power purchase agreement for 30 megawatts of community wind in southwestern Minnesota, consistent with Public Utilities Commission Order.
Opposing Power Line over Midtown Greenway: Represented Midtown Greenway Coalition in collaboration with Minneapolis neighborhoods to fight Xcel Energy's plan to put the 115kV Hiawatha Project power line along the celebrated Midtown Greenway bike and pedestrian path. After many weeks of trial and hundreds of pages of briefs, the Administrative Law Judge recommended in favor of the Midtown Greenway Coalition.Citing environmental justice, magnetic fields and the historic nature of the Greenway (it is listed on the National Historic Register), the Administrative Law Judge recommended in October 2010 that the power line be built underground on 28th Street. Read the Administrative Law Judge's recommendation here. ALJ Recommendation – Hiawatha Project Underground
Protecting Landowners in Condemnation for Pipelines and Powerlines: Lobbied the State Legislature with a coalition of citizens affected by power lines and pipe lines to change Minnesota law so that utility companies no longer are exempt from the protections given to landowners when their land or an easement over their land is condemned for a power line or a pipe line.
These changes are detailed in a Star Tribune commentary piece co-authored by one of the lead legislators sponsoring the legislation.In the Brookings CapX2020 power line case, Paula Maccabee also obtained an Order from the Public Utilities Commission that all landowners affected by the power line will be provided with a summary of their rights, including the new laws. StarTribuneCommentary – Change in Eminent Domain
CapX2020 Power Line – Route Change for Individual Clients: Represented landowners who were located on a power line route "preferred" by eleven CapX2020 utilities for the Brookings 345 kV Power Line. Despite utility opposition, we succeeded in changing a route segment in the Hampton area to affect fewer homes and reduce impacts of the power line on wetlands.The Administrative Law Judge recommended our alternative (6P-06) route to markedly reduce impacts on human settlement and the environment and, in September 2010, the Minnesota Public Utilities Commission issued an Order accepting the recommendation for this route alternative. Copies of the Administrative Law Judge Recommendation and the Public Utilities Commission Routing Order in the Brookings case are attached. ALJ Recommendation – Brookings, ORDER – Brookings Route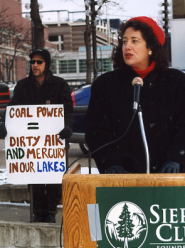 Gardens of Eagan Organic Farm: Represented the Gardens of Eagan organic farm in routing proceedings –prevented a crude oil pipeline proposed by the Minnesota Pipeline Company from crossing the farm. Secured agricultural impact mitigation provisions to provide additional protection to any organic farm potentially impacted by the pipeline.

Agricultural Impact Mitigation Plan for Organic Farms The Appendix to the Agricultural Impact Mitigation Plan developed to specifically protect organic farms is attached. AIMP:Organic Farms.pdf

Redevelopment and Brownfields Remediation Provided legal and consulting services to owners of commercial and office real estate in St. Paul's urban core to remediate pollution, develop plans and achieve approvals and funding assistance for redevelopment projects.
Lobbied to Reduce Mercury Emissions from Coal: Lobbied for Environmental Justice Advocates of Minnesota with a coalition of environmental groups to enact legislation reducing mercury emissions from Minnesota's larges coal plant by 90 percent.
Coal Plant Conversion to Cleaner Fuel: Represented the Sierra Club and the City of Minneapolis in administrative proceedings at the Minnesota Public Utilities Commission, resulting in approval of a landmark plan to convert two coal plants to natural gas and install state-of-the art pollution controls on a third coal plant.
Racial Justice in Foster Care: Successfully represented Our Children Our Future in lobbying for laws to require culturally-appropriate services and preference for care by relatives to reduce family violence and racial disparities for Indian children and African-American children in foster care
Reduction of Air Toxics: Successfully lobbied at the State Legislature and advocated at the municipal level for environmental organizations to enact a Minneapolis City ordinance to limit gas station emissions, Minneapolis City laws to reduce mercury and to launch a new Minnesota program to recycle mercury-containing switches.
Helped non-profit groups, private developers and the City of Minneapolis raise over $6 million in grants for development of supportive housing, lead hazard reduction, and remediation of pollution.
Advocated for the City of Minneapolis in environmental review and municipal consent proceedings for the I-35W highway project to secure a mass transit busway and environmental improvements.
Litigated in administrative hearings at the Minnesota Public Utilities Commission to ensure that a certificate of need for a high voltage power line was contingent on conditions requiring development of wind energy.
Developed and implemented a multi-year statewide campaign with the Sierra Club to reduce toxic air pollution.