Detailed Comments Submitted on Minnesota's First Proposed Sulfide Mine
On March 13, 2014, on behalf of WaterLegacy, I submitted detailed comments and expert opinions criticizing the supplemental draft environmental impact statement (SDEIS) for the PolyMet NorthMet project, Minnesota's first proposed sulfide mine.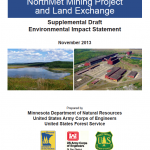 Our 180 pages of WaterLegacy Comment on the PolyMetNorthMetSDEIS both criticized the environmental analysis as inadequate and identified areas where the project would violate water quality standards and fail to comply with other areas of environmental law.
With WaterLegacy's comments, we submitted expert reports from Dr. Brian Branfireun, an internationally-recognized mercury and methylmercury expert (Branfireun Expert Opinion); Bruce Johnson, a retired chemist who worked for three decades as a state environmental regulator (Johnson Expert Opinion); Dr. Don Lee, an engineer and hydrologist with a 31-year career of environmental analysis at Oak Ridge National Laboratory (Lee Expert Opinion); and J.D. Lehr, a professional geologist familiar with the specific geology of the proposed PolyMet project site (Lehr Expert Opinion).